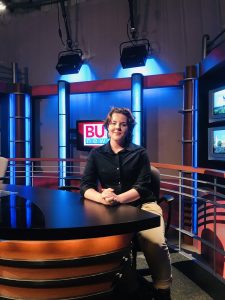 Lee Lard is a User Experience Design and Journalism double major from Peoria, IL. They went to Richwoods High School and completed their Dual Degree Program, graduating from ICC with an Associates in Arts at the time of their high school diploma. Lee is looking forward to anchoring this semester and working with this great team!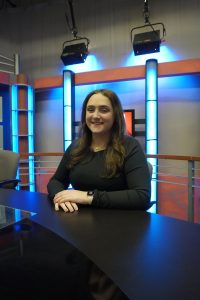 Rachel Hobbs is a sophomore English Highschool Education Major from Wilmington, Illinois attending Bradley University. She is a member of Kappa Delta and enjoys taking long walks, playing basketball and listening to music. Ever since Rachel was a kid, she always loved watching Andy Avalos on NBC 5 Chicago. In highschool, Rachel was a proud member of the weather club as their Vice President. Each morning, Rachel helped start the day for the entire school by providing the weather announcements. Now, she is excited to step into the role of an Anchor for BUTV.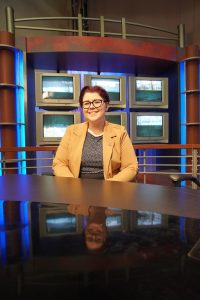 Meagan Ruger-Smith is a sophomore Sports Communication major, with minors in ethics and journalism. Meagan is delighted to return to BUTV for another great year of news anchoring. Outside of BUTV, Meagan is the director of broadcasting for the Bradley Hockey Network and a member of the Brave's Vision ESPN Crew. In the past, Meagan was a three-year news anchor for Astroworld Media and a state finalist in IHSA Speech State Radio Speaking. After Bradley, Meagan looks to enter the world of Sports Broadcasting for Major League Baseball. Meagan is extremely thankful for being involved in BUTV, a place that has allowed for personal and professional growth as well as a wonderful close knit community of Bradley students.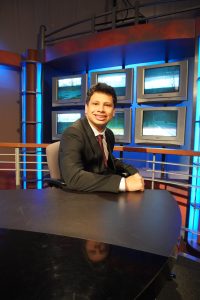 Alec Brandt is a Television Arts major from Pekin, Illinois. In high school, he played soccer (midfield position), participated in theatre, and also art clubs. Now he is the philanthropy chairman for the fraternity Pi Kappa Phi, and studying to become an animator in his future career. He's a guy who is looking to have fun and put a smile on people's faces. Alec also loves video games. The main reason he joined BUTV is to get practice being in front of a camera since he has an interest in acting as well as art. Alec is excited to be this year's Weatherperson for BUTV news and hopes to get better with each cloud he forecasts.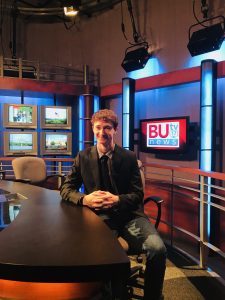 Dylan Baus is a Sophomore Marketing major originally from Oak Park IL. Dylan is excited to cover all things sports for BUTV, and to be able to gain experience in the broadcasting industry. Dylan gained his interest in the media through his parents' radio host legacy, along with many other instances of performing talent throughout his family. Dylan is a Wisconsin sports connoisseur, taking the initiative from his father and family being from the state. Dylan enjoys being involved in his school's community, with him playing Football, Basketball, and Softball for the schools league teams. He wants to use his entertainment skills to build a steady resume, and to make the most of his college experience here at Bradley. See you on air!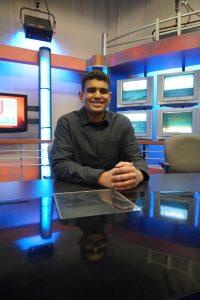 Ty Gray is a TV arts major from Shorewood, Illinois. Like the community of his fraternity, Sigma Phi Epsilon, Ty loves the being a part of the team at BUTV. This semester he's ready to put on a show as he covers everything entertainment. Catch you live!