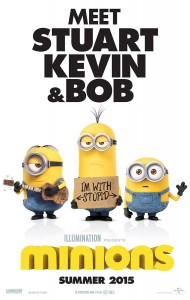 Here's what will be going on around campus soon.
ACBU Cinema presents "Minions" at 8pm in the Marty Theatre from Thursday the 1st through Saturday the 3rd. It's free, as always.
The Bradley Wellness Program is offering a group to help you ditch your stress.
The group meets on Wednesdays from 1-2 in Markin 121. The first session is on October 7.
You'll learn about the effects of stress on the mind and body, relaxation techniques, and time management skills.
There are only 8 sessions, so go check it out while you can.
Bradley's advertising club, The Agency, will be selling Tanner's caramel apples for $4 in the GCC and apple cider donuts for $2 in the Student Center on October 6 and 7 from 11am to 3pm.
UPDATE:  The caramel apples are now $3.  The donuts are $1.